This is what a day with us could look like...
Get up in the morning, get dressed, and go to the bakery just three doors down? Pick up some freshly baked rolls. Mmmm, they smell so good ! Don't forget the daily papers! Then, while having breakfast on the balcony we can plan our day.
Shall we go hiking? Rafting? Tandem paragliding, or what about driving to the Dolomites? No, we'll do that tomorrow. How about going for a walk in the national park and then playing a game of tennis afterwards, that is if we still feel up to it ? O.K.
In the afternoon you still want to do something, but you're just too tired to. So, sit back and relax in the sun in the garden and replenish your supply of energy for the evening.
Apropos evening, what's on the agenda for today? Pay a visit to one of the restaurants or use the grill in the garden for a barbecue? Shall we round off the day with a glass of wine at one of the bistros? And then hit the hay. Good night, see you tomorrow!
And if it rains? No problem! It's so cozy in the apartments that we'll feel right at home in no time flat. Maybe you can spend the day reading that book you brought along. Of course we can do something for our figure, too. The equipment in the accommodations' own fitness room will keep us out of breath for a while. Then we can relax in the sauna, tanning room, or whirlpool.
Of course, the Fuchsbrugger family will accommodate us in the winter, too. We've already booked ! There are three ski areas to choose from, one of which is just a stone's throw away (Speikboden). It takes three minutes to get there on the free ski bus. There's everything from state-of-the-art lifts to typical mountain huts and après-ski. (Our tip for winter fans is the White Weeks [Weisse Wochen]. Unbelievable! And then, back to the warm, cozy Auriga. On our way back to the apartment we meet our hosts – in slippers. This is the place for us because coziness and a sense of well-being are number one priorities.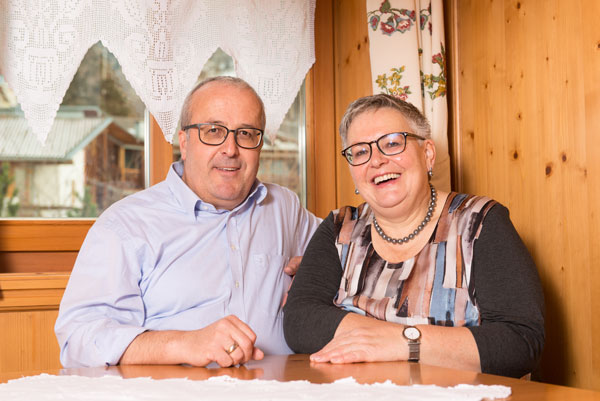 Your host
Martina and Meinhard Fuchsbrugger